The world of sailing is one of dreams, adventure, and personal connections with the seas. For sailing enthusiast, William, this led to a journey with KM Yachtbuilders, transforming his dream yacht, Weatherly, into a true wonder of the seas.
A fateful meeting between William and KM Yachtbuilders
William's journey with KM Yachtbuilders began when he met Eeuwe, the owner of KM Yachtbuilders, at the Southampton Boatshow a few years ago. At that time he considered purchasing a Bestevaer 50, but his heart led him to a Bestevaer 53. After the purchase, he took the boat to the yard for refit work every year. William says: "It was my ambition to take what was already a very good boat and make it into a very best Bestevaer 53 and I think we did very well." William decided after more than 5 years that it was time for something new.
Over the years, a strong bond grew between William and the KMY-team. They successfully sold his Bestevaer 53, and with the earnings he bought Weatherly – a boat that was yet to be seen as it was acquired during the challenging times of the Covid pandemic. With the expertise of KM Yachtbuilders, the boat underwent a major 12 month refit, turning it into a modern masterpiece.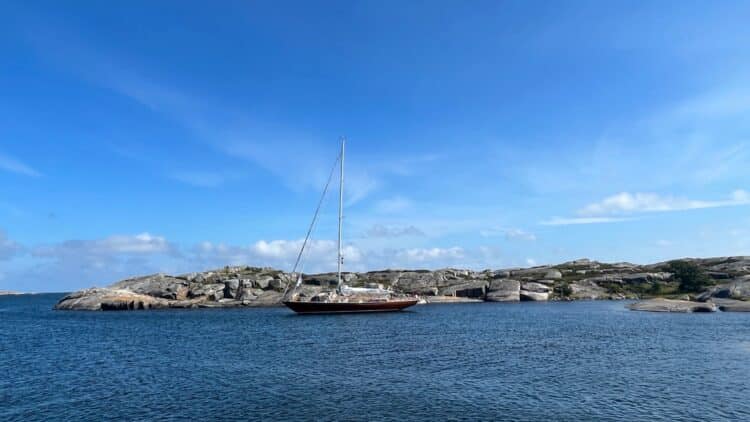 A new life for Weatherly
The refit process was no easy task as it has basically renewed everything except the hull and teak deck. The boat has been completely modernized with advanced systems, heating, electronics, painted and renewed interior, rigging and new engines. "Essentially it's a brand new boat technically and aesthetically, all the equipment is brand new, but it happens to be in the existing hull." William said.
William particularly likes the new Yanmar engine, an updated version of the original, with more power and whisper-quiet performance. Despite the many challenges posed by this ambitious refit, the mutual trust and understanding between William and KM Yachtbuilders, coupled with open communication, ensured seamless solutions every step of the way.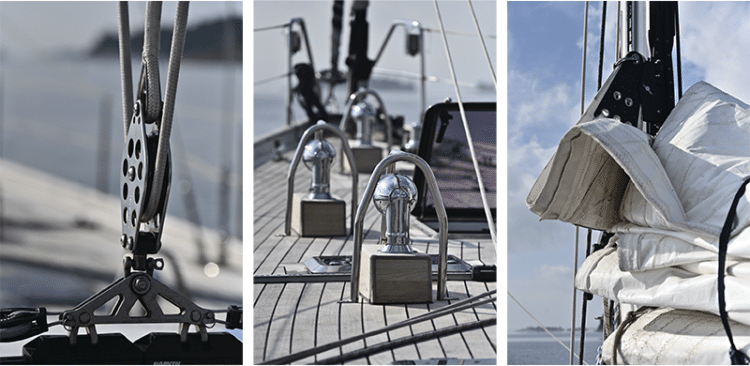 KM Yachtbuilders strengths and potential improvements
Throughout the collaboration, William praised KM Yachtbuilders' remarkable communication and teamwork. The small, dedicated team made sure everyone was kept informed and involved in the decision-making process, a key factor in achieving success. Douwe, the project manager, played a central role in carefully guiding the refit.
While there were minor frustrations such as delayed phone calls, they paled in comparison to overall satisfaction with the service provided by KM Yachtbuilders. William appreciates that the yard offered comprehensive in-house solutions, saving him the trouble of hiring different professionals for individual tasks. William: "It's been my experience that only a very few yachts are able to undertake every last item of work that you need and boats are really complicated pieces of work, they are very complicated machines. So to have a yard which will change your engine and replace the cushion covers on your upholstery is fantastic. Rather than having to organize marine engineers to do one job and upholster and electricians do another. Everything is in-house and integrated. It makes things a lot easier."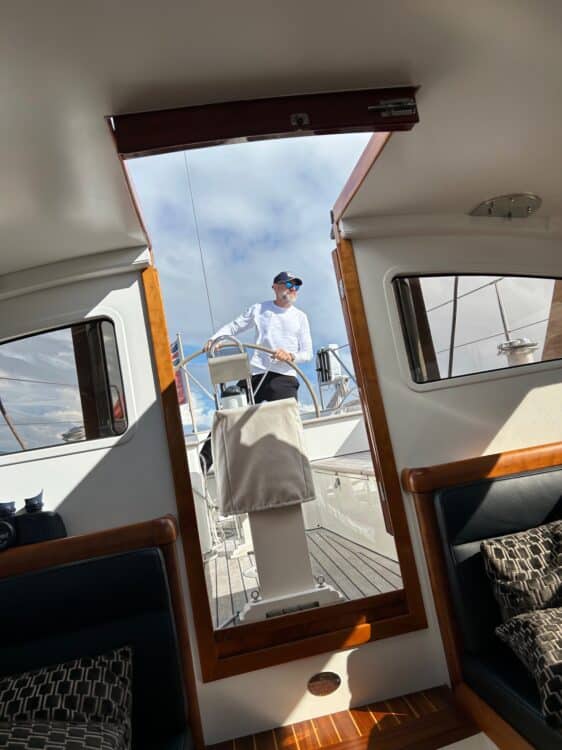 Sailing towards the future
When the refit reached its final stage, the dreaming and planning could really begin. For the coming year, William plans to enjoy the splendor of the Baltic Sea. In the future, he envisions sailing Weatherly back to her home port in Cornwall, UK, and possibly exploring the Caribbean or the Mediterranean.
When asked if he would work with KM Yachtbuilders again or recommend them to others, William's answer was clear. He spoke highly of his praise and indicated that he would highly recommend us to anyone seeking excellent expertise in boat refits or new builds. William: "I wouldn't consider having built a boat anywhere else." For him, the seamless integration of all necessary services by KM Yachtbuilders was the key to making his dreams come true.
William also revealed exciting plans for the future as he planned to embark on another project with KM Yachtbuilders, namely the construction of a new Bestevaer. His vision includes a 59-foot performance version, which combined a swing keel and low displacement, so he can discover many places.
The story of William and KM Yachtbuilders is a good example of dreams, trust and the commitment of a dedicated team. The partnership has seen Weatherly emerge as a true jewel of the seas, ready to take on countless new adventures and turn heads wherever it sails.